.: Welcome to our site

This club was created to stimulate the interest of its members and the general public in the study of Mineralogy, Geology, Paleontology, and Archaeology

.: Club Meetings

Meetings held at 10:00 AM on second Saturday of each month (except July & August), unless otherwise noted.

***NEW MEETING LOCATION FOR 2016***

Community Room at the First National Bank and Trust

1625 10th Street, Monroe, WI

​Located on the north side of the downtown historical square across from the Courthouse.

Next Meetings

Saturday, December 10th, 2016. Annual Christmas Party

Early January, 2017. TBD - Planning meeting for 2017

Hope to see you there!

Prior Meetings

Saturday, November 12th, 2016. Abbreviated meeting followed by a trip to the Freeport show.

Saturday, October 8th, 2016. Discussion of new show location for 2017. 2017 mineral calendar. Discussion about Lapidary Day at the Trocke's residence October 22nd.
.: Our Annual Show
***Stay tuned for our 47th annual show in 2017!***
Badger Lapidary & Geological Society, 46th Annual, Rock, Gem, Mineral, & Fossil Show
Dates: Saturday April 9th & Sunday April 10th 2016
Hours: 9am-5pm Sat & Sun
Location: Monroe Senior High School, 1600 26th St., Monroe, WI 53566.
Description: Ten dealers, excellent speakers, many beautiful club displays, fluorescent mineral tent, lapidary demonstrations, club sales table, hourly door prizes, educational films.
Activities for kids: Fishpond, spinner game, scavenger hunt, gold panning, and roaming rock wizard.
Food: Full Menu.
Free admission: Free-will donation and free parking.
Show Contact: Debbie Wehinger, 708 W 2nd Avenue, Brodhead, WI 53520; 608-897-2608; jdrules3@gmail.com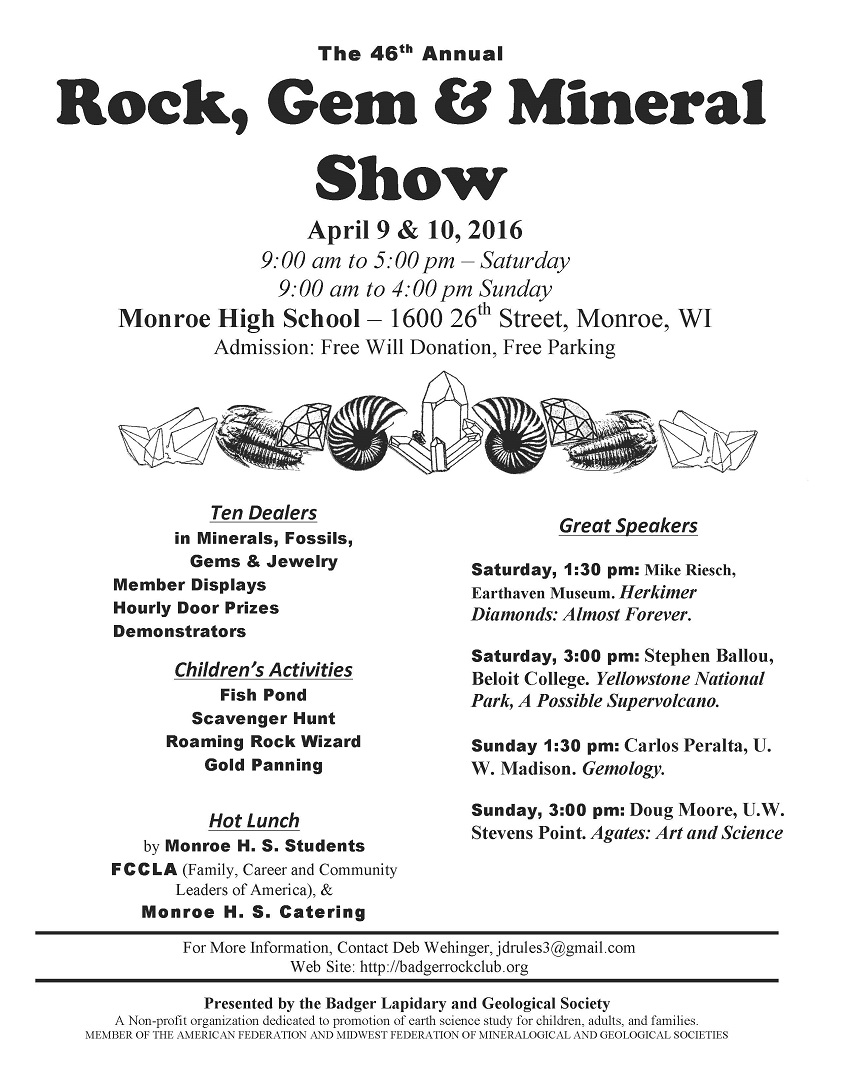 ***Download the 2016 Show Quarter Page Flyer and the 2016 Show Full Page Flyer for your viewing - or to share!***