.: Welcome to our site

This club was created to stimulate the interest of its members and the general public in the study of Mineralogy, Geology, Paleontology, and Archaeology

.: Club Meetings

Meetings held at 10:15 AM on second Saturday of each month (except July & August), unless otherwise noted.

You voted! Meeting location for 2018 is...

Mystic Moraine Minerals - 13 N Academy St, Janesville, WI

Next Meetings

Saturday January 13, 2018. Meeting topic: Discuss the new year. Activity: Bring a fossil(s) to show or be identified.

Saturday February 10, 2018. Meeting topic: 2018 show. Activity: Lapidary Play Day

Hope to see you there!

Prior Meetings

Saturday December 31, 2017. Meeting: Trockes residence - 2018 planning meeting.

Saturday December 9, 2017. Annual Christmas Party at the International Buffet in
Monroe. Election of new officers for 2018.
.: Our Annual Show
Badger Lapidary & Geological Society, 48th Annual, Rock, Gem, Mineral, & Fossil Show
Dates: Saturday March 24th & Sunday March 25th, 2018
Hours: 9am-5pm Sat & 9am-4pm Sun
***New show location for 2017 and beyond***
Location: Rock County Fairgrounds, Craig Center Building * 1301 Craig Ave, Janesville, WI 53545 Download Map
Description: Ten dealers, excellent speakers, many beautiful club displays, fluorescent mineral tent, lapidary demonstrations, club sales table, hourly door prizes, educational films.
Activities for kids: Fishpond, spinner game, scavenger hunt, rock crafts, and roaming rock wizard.
Food: Full Menu.
Free admission: Free-will donation and free parking.
Show Contact: Debbie Wehinger, 708 W 2nd Avenue, Brodhead, WI 53520; 608-897-2608; jdrules3@gmail.com
Stay tuned for further details!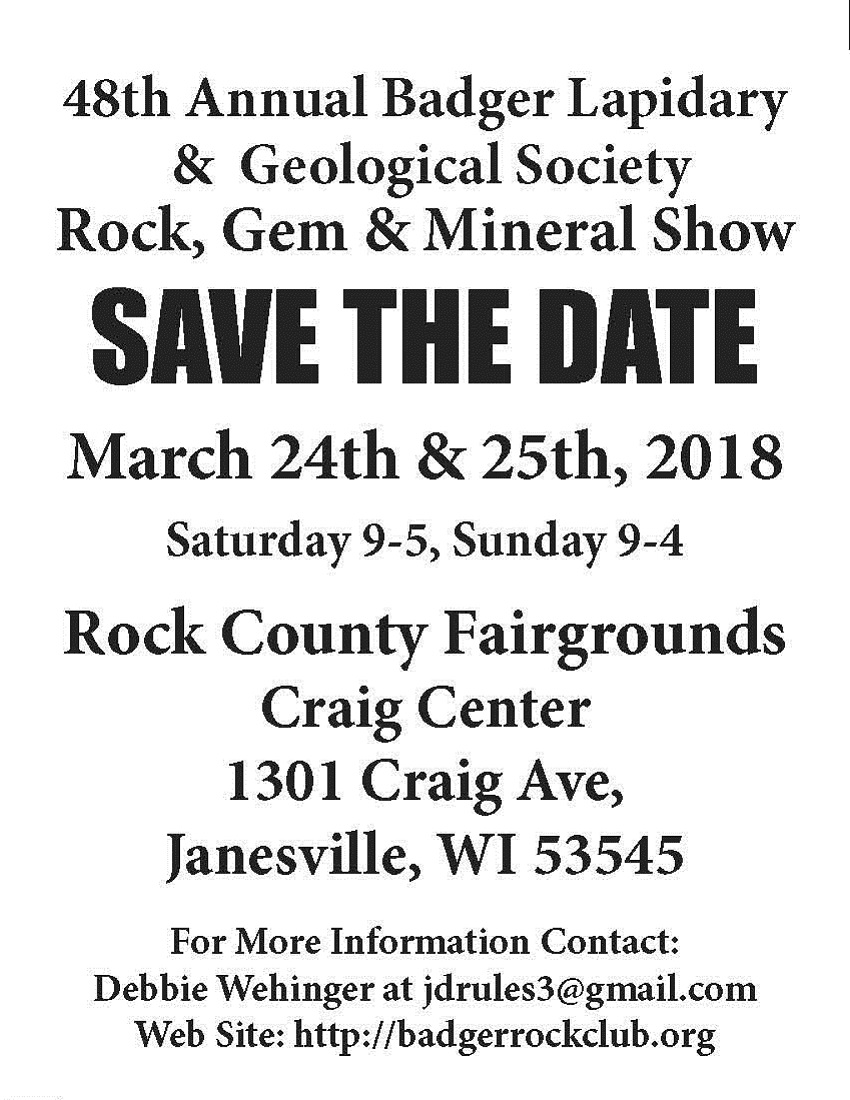 ***Download the 2018 Show Preliminary Quarter Page Flyer and the 2018 Show Preliminary Full Page Flyer for your viewing - or to share!***